FRITSCH EARNS NAIC'S HIGHEST INDIVIDUAL HONOR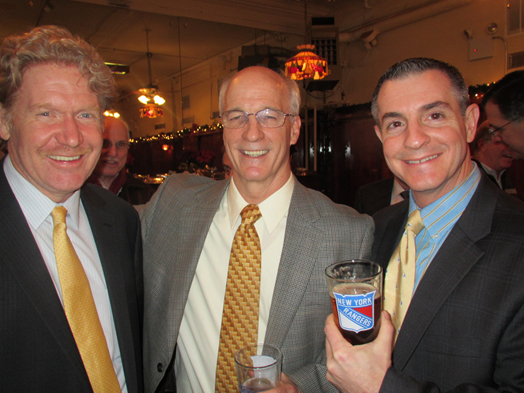 Joe Fritsch (center) with former Dineen winner and NYSID alum Mike Moriarty (left),
and DFS alum Tim Nauheimer at Joe's farewell gathering on Jan. 10, 2013.
Tim also left the Department in late 2012 to enter the private sector.
The National Association of Insurance Commissioners (NAIC) presented Joseph Fritsch of the New York State Department of Financial Services with the organization's most prestigious individual honor. Fritsch received the Robert Dineen Award during the Opening Session of the NAIC's Fall 2012 National Meeting.

"Joe's dedication to insurance regulation and his exemplary record of service has been displayed on numerous fronts throughout his nearly 35-year career," said Kevin M. McCarty, NAIC President and Florida Insurance Commissioner. "His expertise in statutory accounting and solvency issues was critically important during some of the most challenging economic times. Also notable was Joe's early understanding of the global insurance marketplace and the importance of identifying the regulatory challenges of cross-border insurance business."

Fritsch served as Chair of the NAIC Statutory Accounting Principles Working Group and Vice Chair of the Emerging Accounting Issues Working Group. He worked closely with regulators and NAIC staff regarding AIG and securities lending programs at the height of the financial crisis, and played a key role in the NAIC's reinsurance modernization proposal.

Established in 1989 and named in honor of the founder of the NAIC's Support and Services Office - now its Central Office - the Robert Dineen Award is presented to an individual in recognition of his or her outstanding achievement as a career regulator.

Joe was the sixth Dineen Award winner from the NYSID/DFS since the award's inception in 1989. The previous five winners were Terry Lennon (1991), Vin Laurenzano (1993), Mike Moriarty (2005), Charlie Rapacciuolo (2007) and Lou Felice (2010). With six winners, New York boasts far more Dineen winners than any other state. Nice job Joe!

Joe retired from the DFS on 12/31/12 and now works for INS Regulatory Services.





.