ANTARCTICA - AWE & WONDER
by Linda Chanda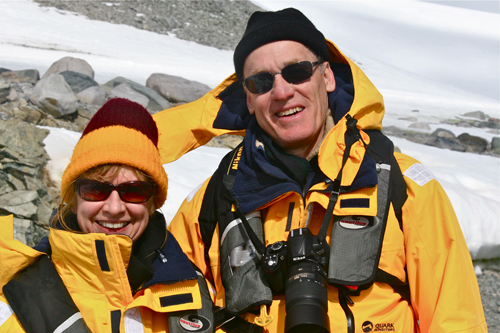 -Linda & Ed on their 'Trip of a Lifetime'-

My husband, Ed, and I stopped calling our trip to Antarctica a vacation and renamed it an adventure, since some of our family and many friends asked "Why would you want to go there?" It's still a hard question to answer; you either get it or you don't. Friends who had been there told us that if we liked our trip to Alaska, we would love Antarctica. They were right. For those mathematically inclined, Antarctica is Alaska "cubed," an experience beyond superlatives.

In January 2012 we began our adventure by sailing from Ushuaia, Argentina, "the city at the end of the world," on a Russian research vessel (originally built as a research and spy ship) with 101 passengers from 21 countries, and a mostly Australian expedition team. The Russian Captain was the spitting image of Sean Connery in the movie "The Hunt for Red October". He gave us free run of the ship, an added bonus for those of us with an interest in Cold War politics.

We had been warned that the two-day crossing of the Drake Passage could be treacherous, so we were well prepared with every known form of seasick treatment, but we were still surprised to see a double seatbelt across the bunk that was parallel to the keel. And yes, I needed to use it. The crossing time also gave us opportunities to attend presentations given by our expedition team members who work in various fields of interest related to Antarctica.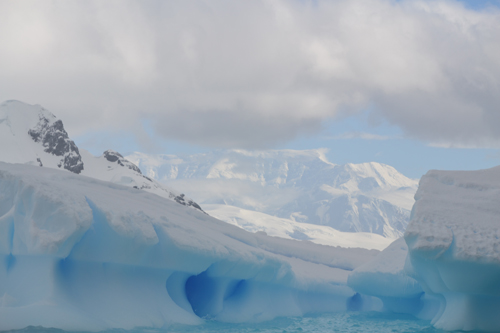 -Unwordly Mountains & Icebergs-

Our first sighting of Antarctica was in a gale with winds of 40 knots. We were perched on the ship's bridge, which afforded spectacular 180º views. The icebergs, clouds hanging in the mountains, pure white snow, and deep blue roiling ocean left us tear-choked — far more awesome than a Grand Canyon sunset. And the awe continued throughout our adventure. We were in the presence of God the Father, the Creator God.

One of our expedition team explained that the problem with Antarctic is that the mind has nothing with which to compare it. Things we "know" were not true here. With 24 hours of daylight (it got dusky from about 11:00 PM to 1:00 AM), day and night were meaningless. Islands, bays and glaciers had names, but there were no land names. Research station signs gave their locations by latitude and longitude, in degrees and minutes – an entire continent without names for land places. Our daily itinerary was determined by the whim of nature when we got there, wherever "there" turned out to be.

There was no Internet or cell phone access, and no one to contact for weather updates, which would have been useless anyway since we could experience all four seasons multiple times a day. Except for a few rare small tufts of 100-year-old moss, the color green doesn't exist. And since there is no vegetation to decay, there is no earth. Walking on rocks sounded like we were treading on broken crockery. Imagine a place without any shopping or Starbucks!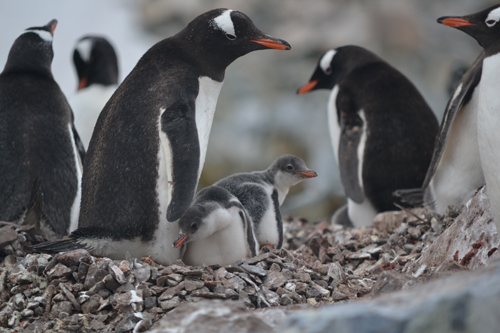 -Gentoo penguin nest and colony-

Our multiple zodiac excursions and land hikes along the Antarctic Peninsula afforded us limitless vistas and lots of opportunities to see, and be with, wildlife. Hiking to the top of a ridge, we could see mountains in the distance in bright sunlight; past that, others in clouds. Keep looking, and another more distant one would appear, then another.

We saw varieties of newly hatched penguin chicks, chicks ready to fledge and "dating" pairs "playing house," which was laugh-out-loud funny. There were many varieties of seals and birds, as well as humpback whales. The wildlife do not fear people, since they don't see any and regard us as a curiosity.

We were so excited by the pair of humpbacks that came to investigate our zodiac, swimming under it, that we forgot to take pictures until one of them breached about 200 yards away. Although we felt privileged, we also felt just like kids as did most of the other passengers. In fact, an expedition team member (PhD in Marine Biology) said that he enjoyed conducting these tours occasionally because they invariably allowed him to witness the transformation of the crustiest CEO into an awe-struck child. Antarctica has that effect on most people, a transforming power. It certainly did on us.




-Antarctica humpback welcoming committee greets Linda and Ed's zodiac-

Antarctica isn't like anywhere else. The best description of what it is like? Go to infinity, pull back the curtain for a peak and that's Antarctica. Awe and wonder.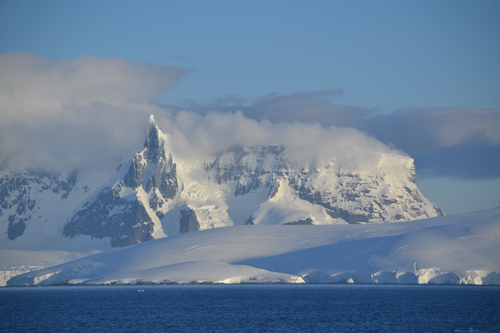 -Majestic landscape of the Antarctic Peninsula-




.